Welcome!
Welcome to the United Realms' WIki page, we hope it is to your liking! This community is for those who wish to get away from noob mate-beggers of Bonfire and Creepy Pasta in the Tunnels.
Hub Look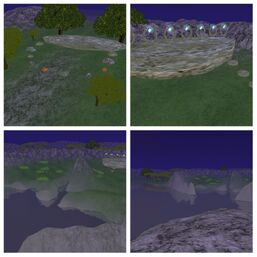 Things You'll Need To Know About United Realms
Rules
No more than 1 user character per group/pack/clan. It's unfair to smaller groups if you have a group of pretty much the same user and it is inactive.
Download the maps as soon as you can, if that is going to take a bit, tell your lord/alpha/clan leader so they can announce it at the weekly gathering.

We won't be posting it publicly as it could bring in unwanted guests.

If a group/pack/clan become inactive on the maps, their land will open up for claim, they will need to fight for it. If your group is inactive for a reason, leaders/lords/alphas will need to contact one of the Wiki Admin.
-
Territory Claiming System
Before you can claim land, you must make a wiki page for your group/pack/clan. If you can not do so, ask one of the Staff members.Create An Account.
Add a Pack/Group/Clan Page.
Check the Territories page to see which land is and is not claimed.

If there is more than one camp in the map, it will be stated on the map's page.
Add your claim to your Pack/Group/Clan page and the Territories page.